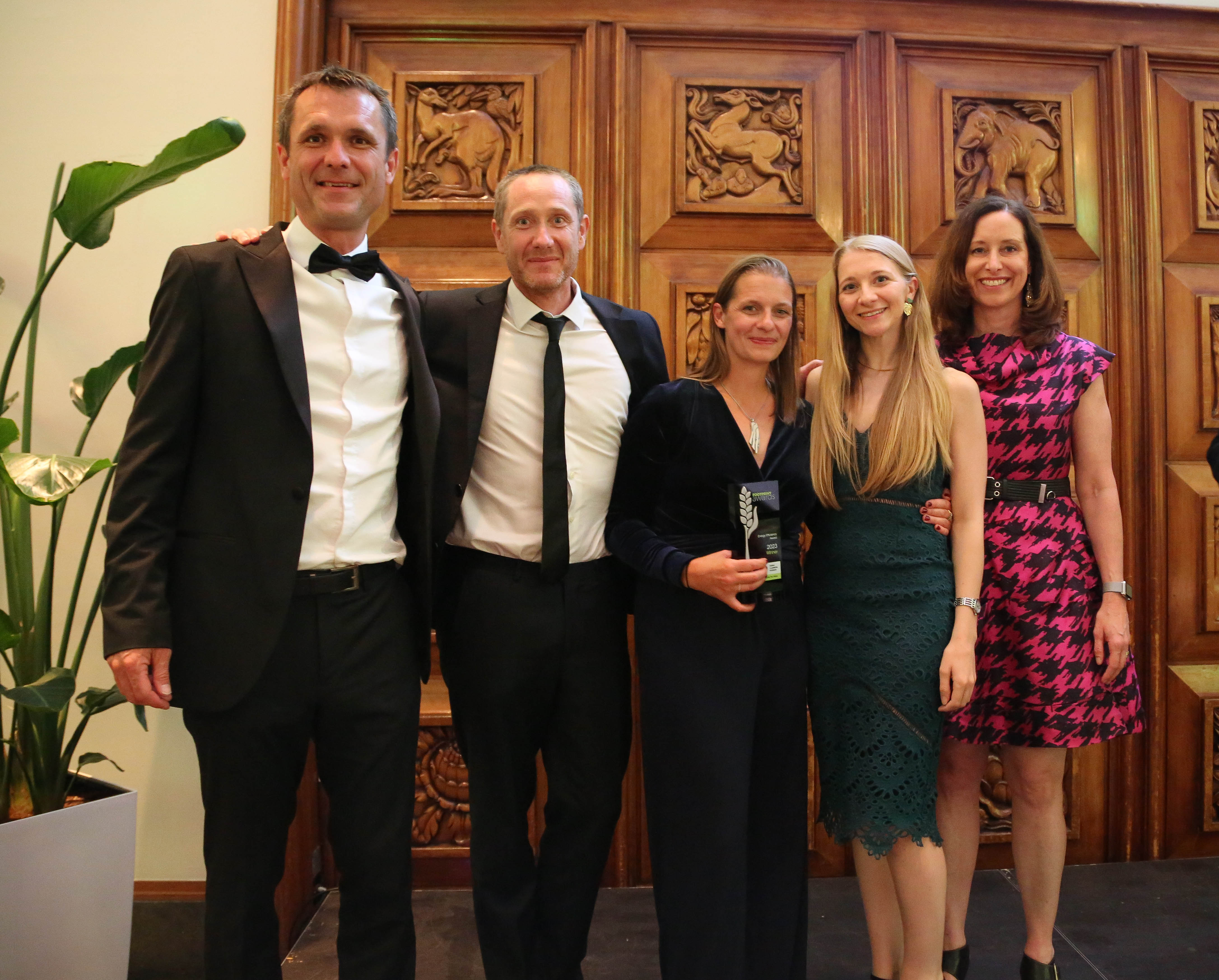 12 Jul 2023
Footprint success as Forum wins again at 2023 awards
Last month, at the picturesque Royal Institute British Architects in London the forum was once again successful at the prestigious Footprint Awards.
After bagging a double prize at the 2022 awards, we were delighted to add the Energy Efficiency Award win for 2023 to our growing trophy cabinet.
The forum is bringing together the hospitality and brewing industry to collaborate in order to drive and create the environmental change needed in the way the industry operates, and in the way consumers dine and drink out.
We're thrilled to be recognised for our hard work in supporting the hospitality and brewing sector to implement innovative changes and policies that deliver both energy savings while tackling climate change in our industry, all at the same time.
Our entry was based upon our Save While You Sleep (SWYS) programme which is helping operators within the sector, cut carbon as well as costs. The programme is supporting the industry to eliminate energy waste and to take a massive step towards tackling the climate and energy crisis.
So far users have seen over £1.4million recovered in lost profits and over 1243 Co2 tonnes saved in energy since the project's inception.
Together with our sector focussed Action Groups, SWYS is enabling our members to act, drive impact, and reach net zero targets faster and more efficiently all while saving vital costs.
Our Action Groups have also seen tremendous success over the past 12 months. The idea behind them, to support members in managing the transition to a more sustainable way of doing business that will allow our sector to reduce emissions and manage the transition to a sustainable future. They provide a platform to share challenges, ideas and insight in a collaborative space and, through them, we have significantly improved the levels of education and awareness of how to drive meaningful action.
Our Engaging Suppliers Action Group has developed a roadmap on how to effectively engage suppliers. Our Regenerative Agriculture Action Group has produced a report outlining the benefits of regenerative agriculture to the hospitality sector. While our Dairy Action Group brings together the leading names in hospitality with Dairy UK, to bridge the gap between operator and supply chain.
As we continue our work in launching free tools and implementing new initiatives that enable the hospitality sector to commit to net zero, ahead of government targets, the Footprint award is testament to our success in helping reducing carbon emissions and energy waste. A mission to create a more secure and sustainable zero carbon future for hospitality and brewing.
The night wasn't just a success personally. Forum members Adnams (Economic Sustainability), KFC (Waste Management and Reduction), and McDonalds (Sustainable Use of Natural Resources) were also on the honours list.
This is exactly what we like to see for our members, their hard work and impressive achievements being recognised with sustainability honours – amazing work all.
A big thank you to the Footprint team also for organising this fantastic event.
 
We will continue forward on our journey to eliminate carbon from the hospitality and brewing industry, together at pace.
Back to what's new